Nature is often hidden, sometimes overcome, seldom extinguished.
The Plan
Explore the slot canyons in the Moonshine Wash, south of the town of Green River. Then spend a night somewhere on BLM land, ideally along the Green River.
Slot Canyons
Antelope Canyon is the Niagra Falls, the Everest, the Empire State Building of slot canyons. If you have spent any time on the internet, there's almost no doubt you've seen the spectacular photographs that come from that single spot. However, just like Niagra, Everest, and the Empire State Building, Antelope Canyon is, unfortunately, commercialized.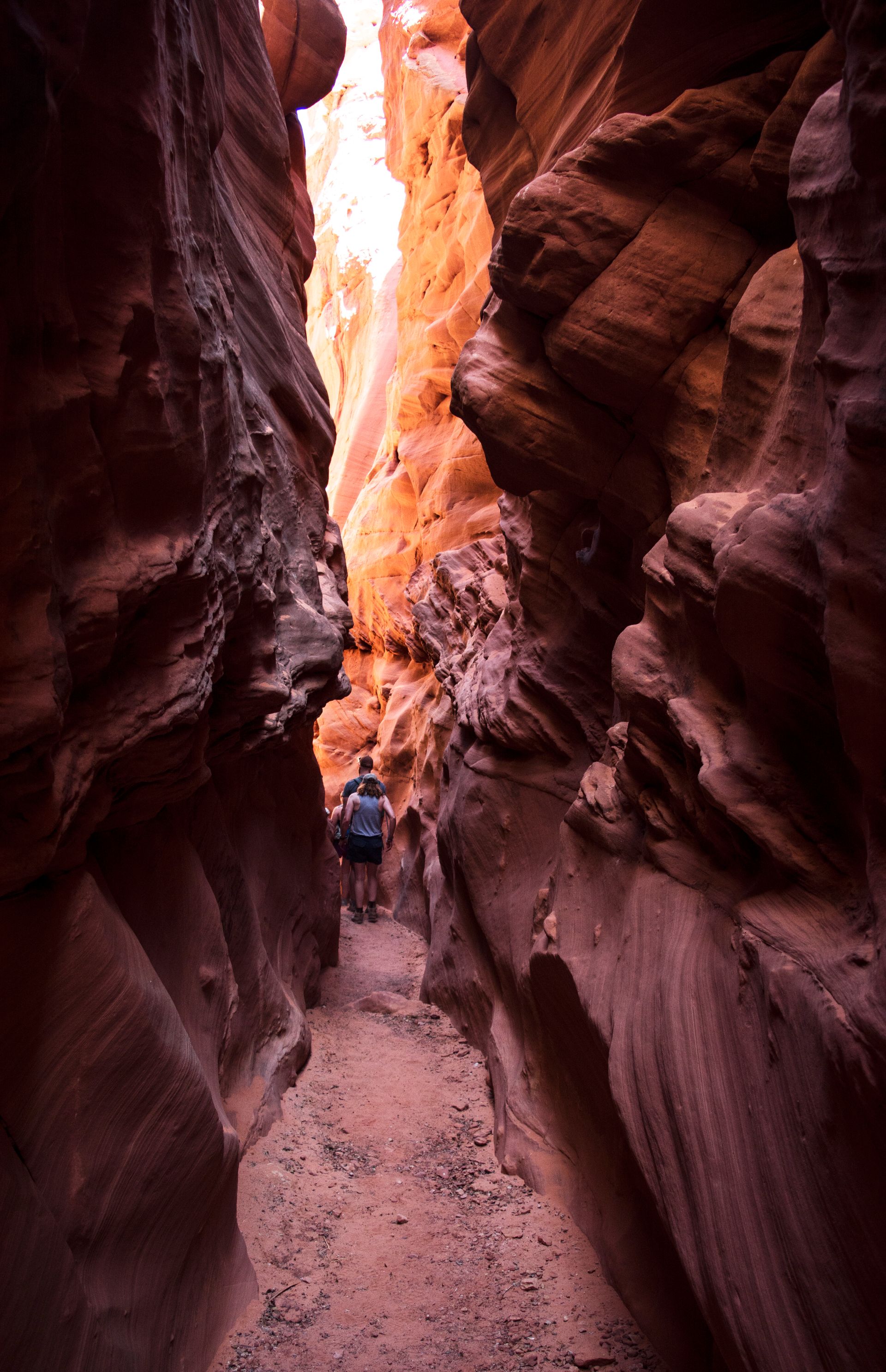 Tours of the canyon have been skyrocketing in recent years due to unabating demand. A walk through the canyon can cost anywhere from 50-100 dollars. Oddly enough, there are dozens of amazing slot canyons throughout Southern Utah and Northern Arizona that are free to explore, much less crowded, and no less stunning.
Moonshine Wash is a great example of an "off the beaten path" slot canyon. Starting south of the town of Green River, the trail slices through canyons that are less than three-foot across. The signature Utah-red sandstone offers amazing views, and the drive over the San Rafael and Green Rivers are unique pleasures in the vast land of sand.
Crystal Geysers
After weeks of quarantine, it was deemed safe for small groups to finally meet. While national parks were still closed, and state parks were only accepting visitors from the same county, we were left to BLM land--which was fine with us.
After some research, we decided to explore an area that we had previously neglected for other, sweeter, options. The Green River stood out to us. We wanted to try something safer (considering the times) and brought along fishing poles instead of climbing gear. Our first stop was an area just south of the town of Green River called Crystal Geyser.
We didn't want to traverse BLM roads in the middle of the night, so we instead set up camp along the river slightly closer to town. Frankly, I didn't know Utah had geysers, and the area was campable, so we headed towards the landmark. If you were expecting Old Faithful, you'd be slightly remiss. The reason you've never heard of Crystal Geyser is that it's really something to miss. It wasn't anything more than a slightly interesting collection of yellow-ish rocks. While the geyser wasn't much of a sight, the camping wasn't bad, and we claimed the last spot just feet away from the river. I got to fishing while the rest of the gang set up camp. After catching six small bullheads within one hour, I deemed the spot "great".
BLM 1010
The next morning we packed up camp and headed for the Moonshine Wash Trailhead. The BLM roads were in surprisingly good condition. We had a 4x4 truck, but once we made it to the parking area, we saw a few sedans. Some spots were tricky, but overall, if you have all-wheel drive and a bit of clearance you should be fine. Follow BLM 1010 on google maps for most of the way.
It was a bit of a drive--about thirty miles down dusty roads to get to the spot. It's also easy to miss. Google maps will take you to a turn off for "moonshine wash" but don't follow the sign. Stay straight and turn left at the "Three Canyons" sign. There's a parking spot, and then you walk on the road another mile to get to the start of the trail. The trailhead isn't well marked, nor is the trail for that matter, but you fallow the wash and it's easy enough to see where it goes. Make sure you have the map downloaded prior to starting off, it's easy to get turned around out there.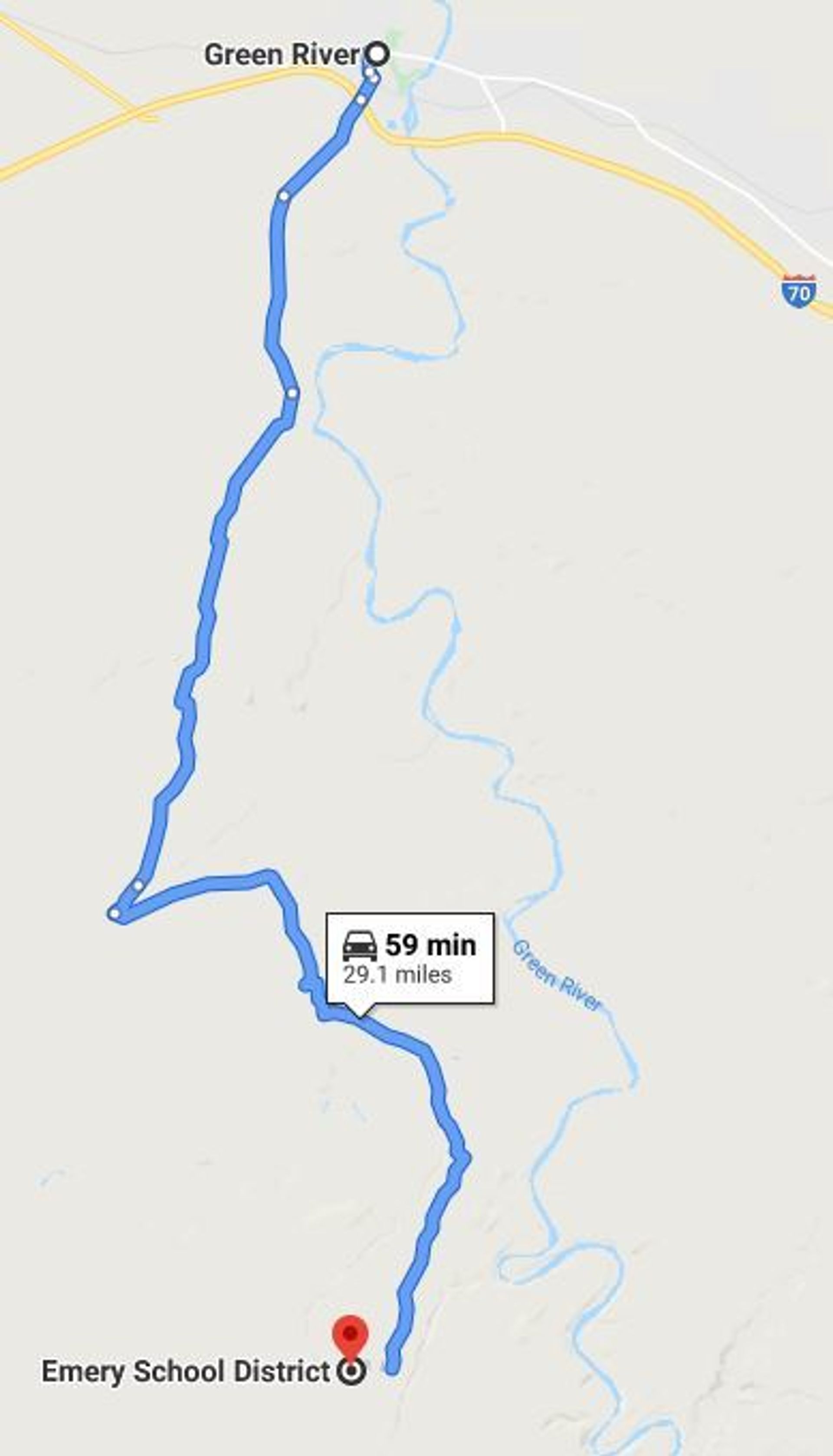 Along the way, there are temping areas to "off-road". Super-flat, open desert try to taunt you off the road and take a spin...Don't. Some of these areas are mud pits that only seem dry. Just under the surface is a trap for any vehicle--even big trucks. We saw several abandoned cars literally stuck in the mud.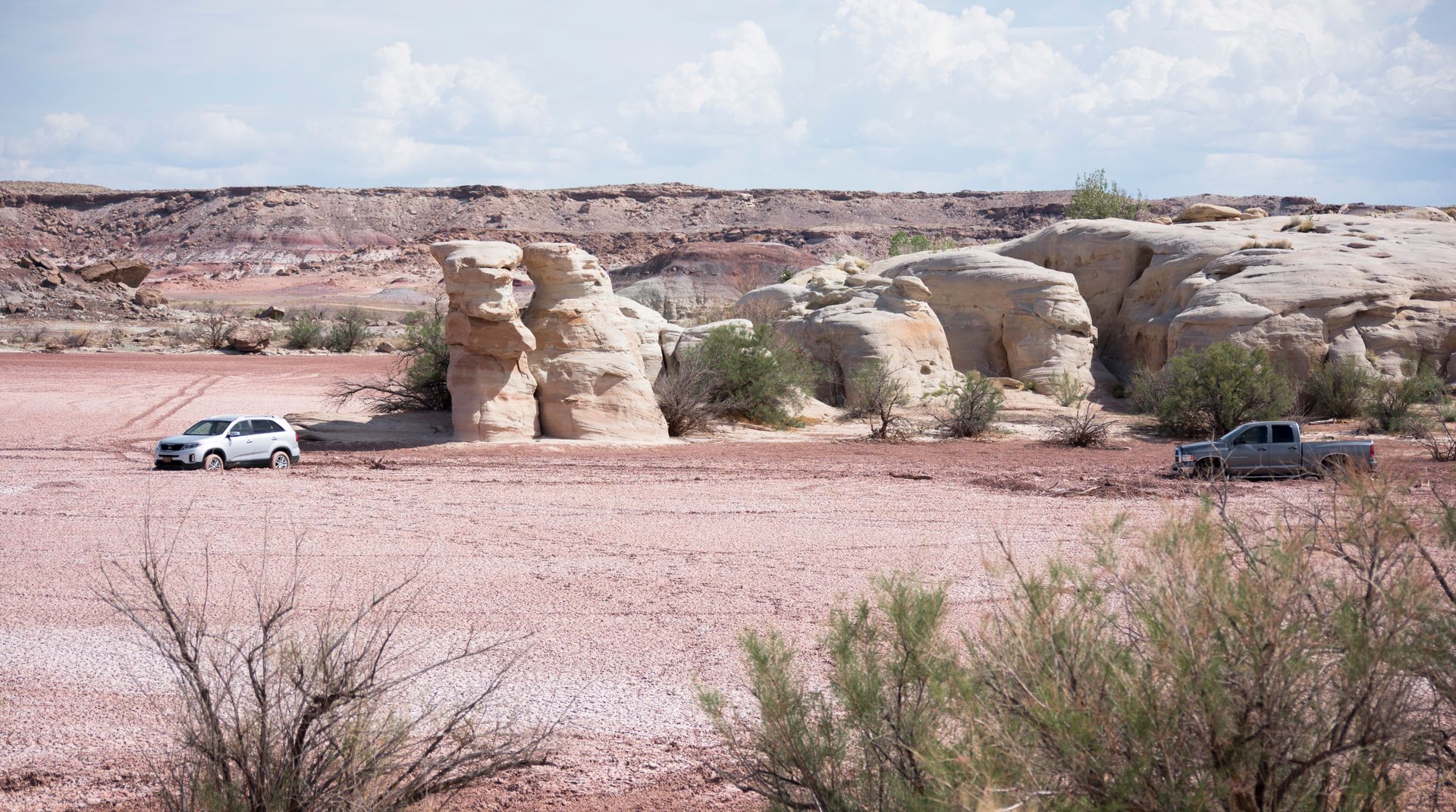 The "Trailhead" and Some Considerations
Before heading into the wash, there are a few notes I want to make clear. First, the "loop" on all trails is slightly misleading. Outside of the slot canyon there isn't a trail. You simply follow the canyon rim back to the entrance of the slot. This really got us turned around and confused, but we found the way back once we learned there wasn't a "trail" to follow. It's almost easier just to follow the slot back and turn the trip into an out and back.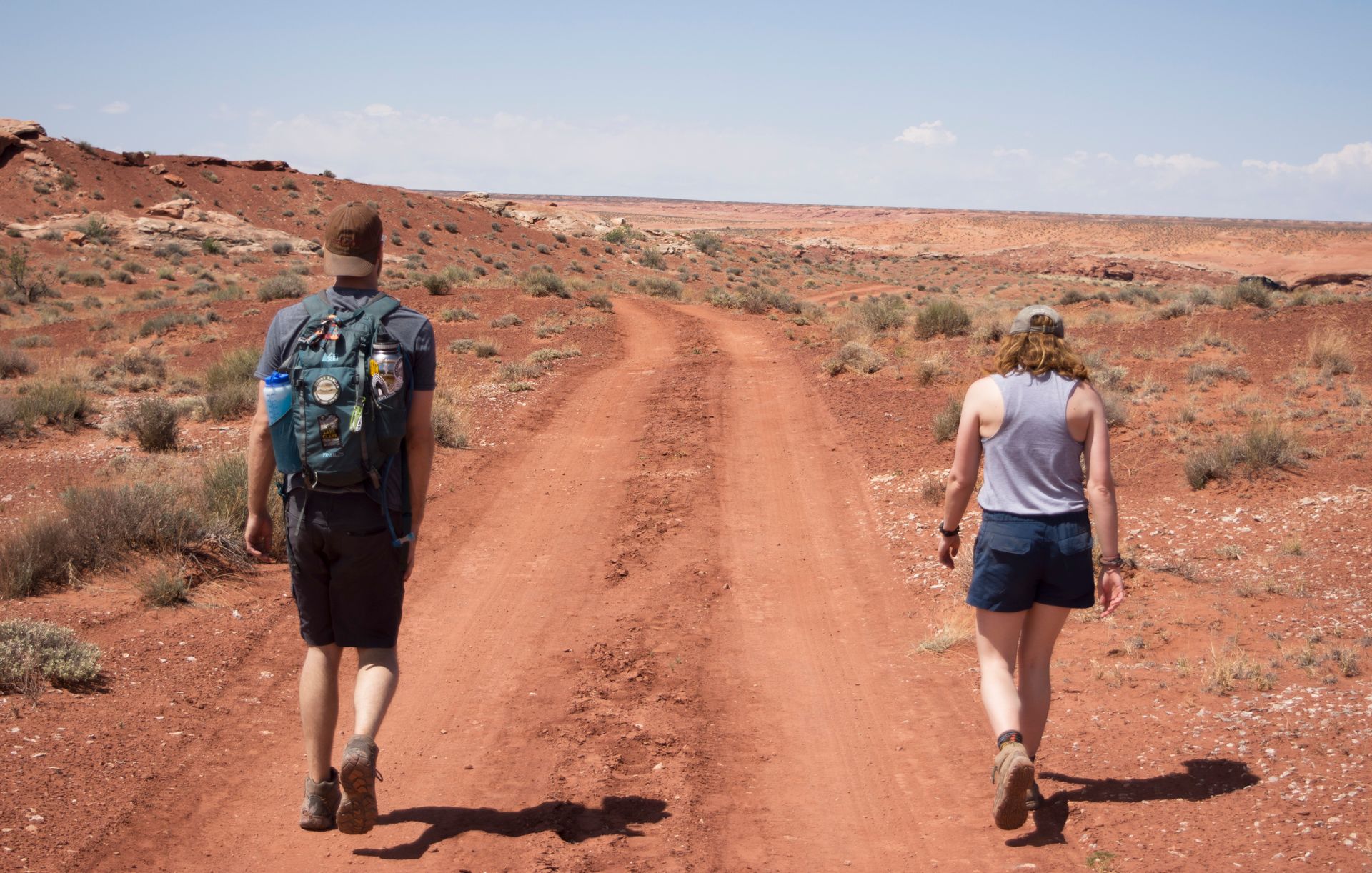 Second, bring a ton of water. Outside of the slot, it's hot, and there is no shade. And while it's not a difficult hike, the conditions, heat, and having to scramble in some spots make it a dehydrating affair.
Third, many of us love to bring our four-legged-friend on BLM trips. This is one trail where you'll want to leave the pup behind. The slots are tight as is, and some areas you have to physically climb down. This requires hands and thumbs. If you do bring your dog, make sure you're strong enough to lift them a significant distance.
Moonshine Wash
Before getting to the slot canyon, you have to first follow the wash down a few falls. These are areas where you have to clamber down to get you further into the canyon. Don't worry, you don't need any gear, just watch your step.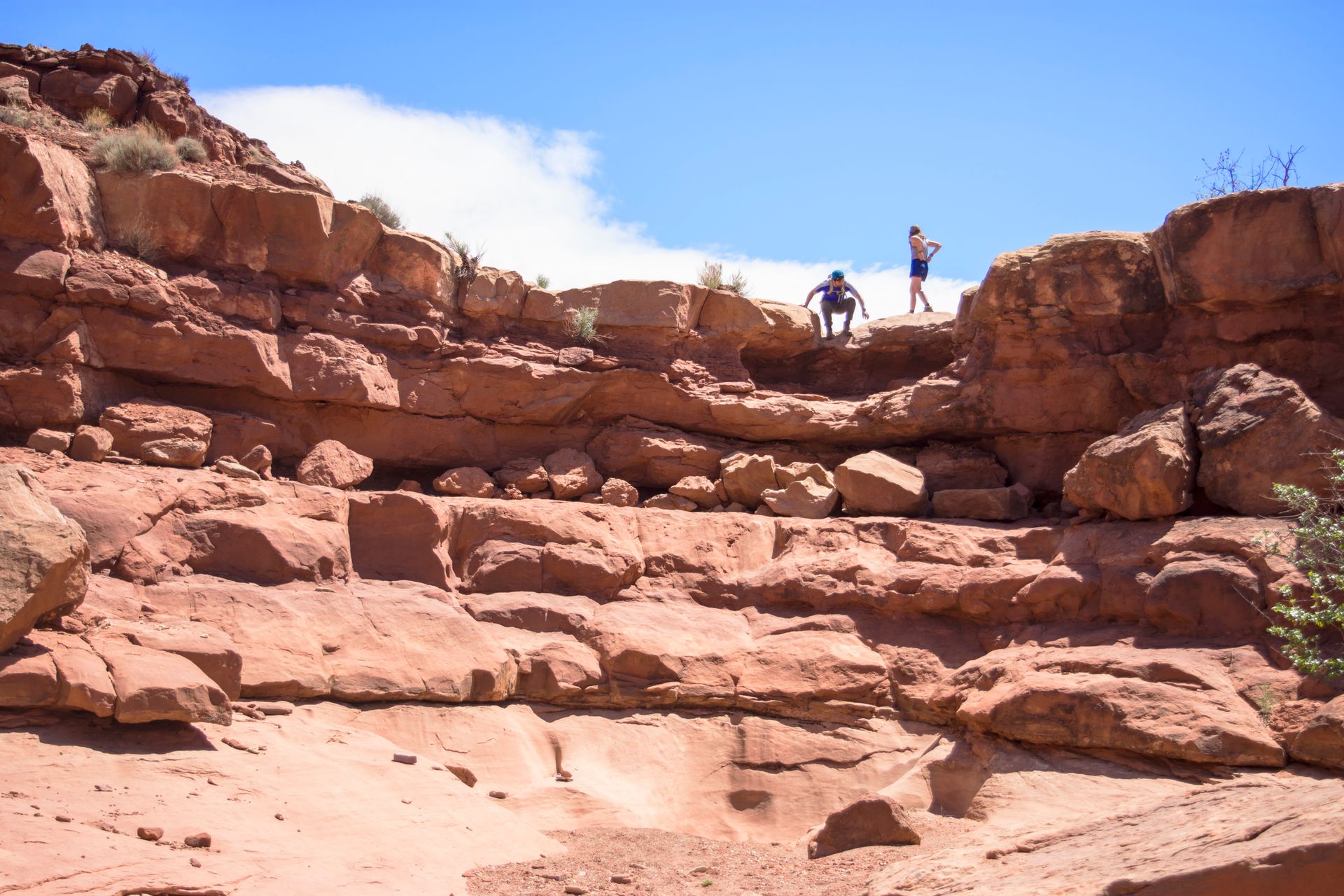 Once you hike a mile or so into the wash, the slot canyon will start seemingly out of nowhere. A crack in the ground slowly transforms into a legendary canyon with walls stretching two-hundred feet in some spots. Once you're in the canyon, it's cool, beautiful, and really impossible to get turned around.
Flashbacks to the movie 127 Hours were around every bend. The horrific scene took place in a similar slot canyon in Utah just a few dozen miles away.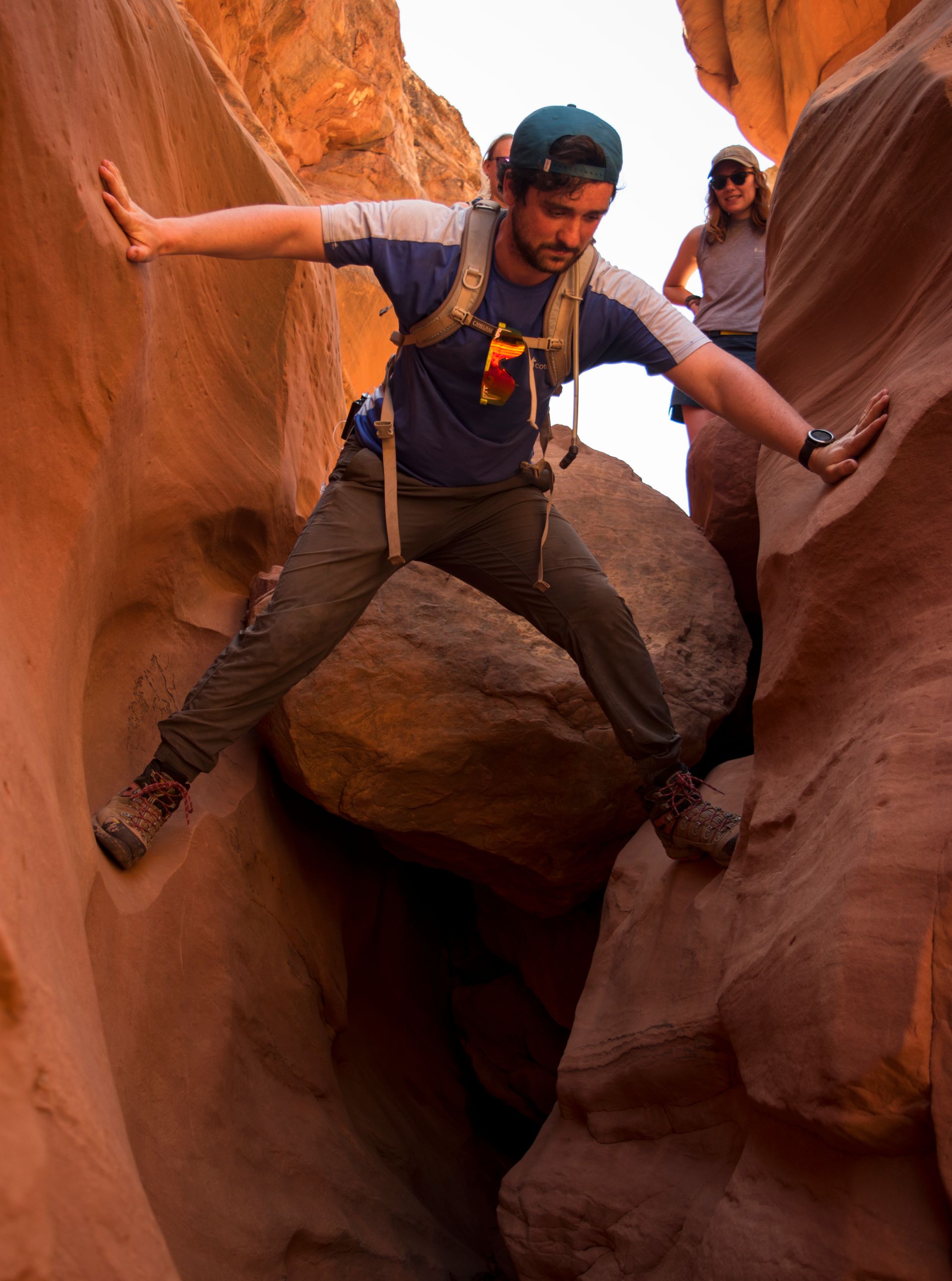 Along the slot canyon, you'll come across some obstacles. Whether you go over or under, just make sure to watch your step. The remoteness of the area makes it a bad location to get injured. We saw both children and elderly traverse the canyon, so it can be done.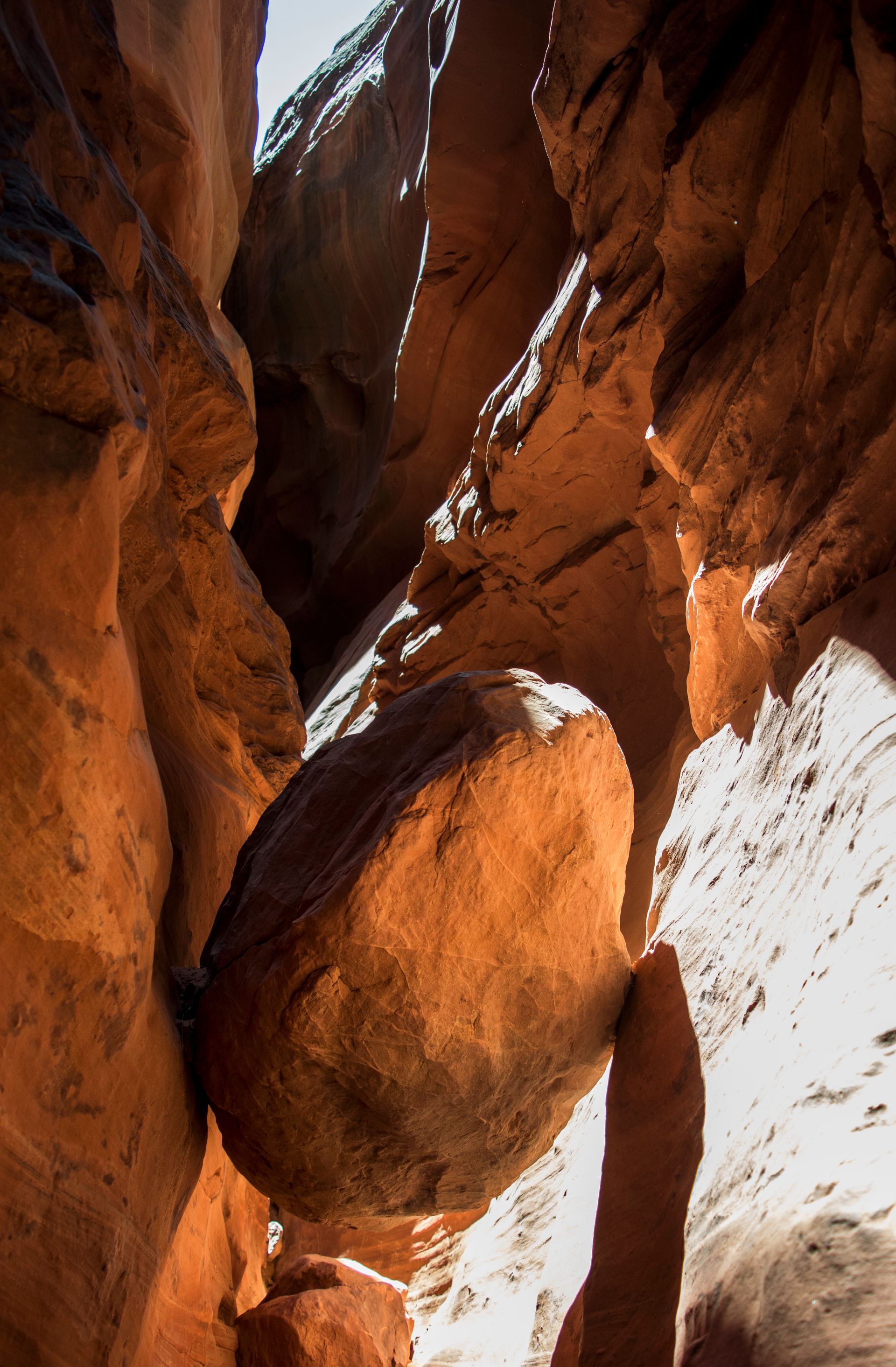 Make sure to look up every once in a while. You don't want to miss what's above you. There's a sheep bridge that spans the slot about halfway in!
Follow the wash about two and a half miles. It'll open up to a larger canyon (which is still worth exploring) and keep following the large canyon walls until it starts to get tight again. This is whereabouts we turned around and tried to follow the All-Trails map to make the "loop". It tells you to pretty much scale the canyon to get on top of the mesa. This is where things start to get tricky--and is entirely unnecessary. We quickly wished we stayed in the canyon and walked back the way we came.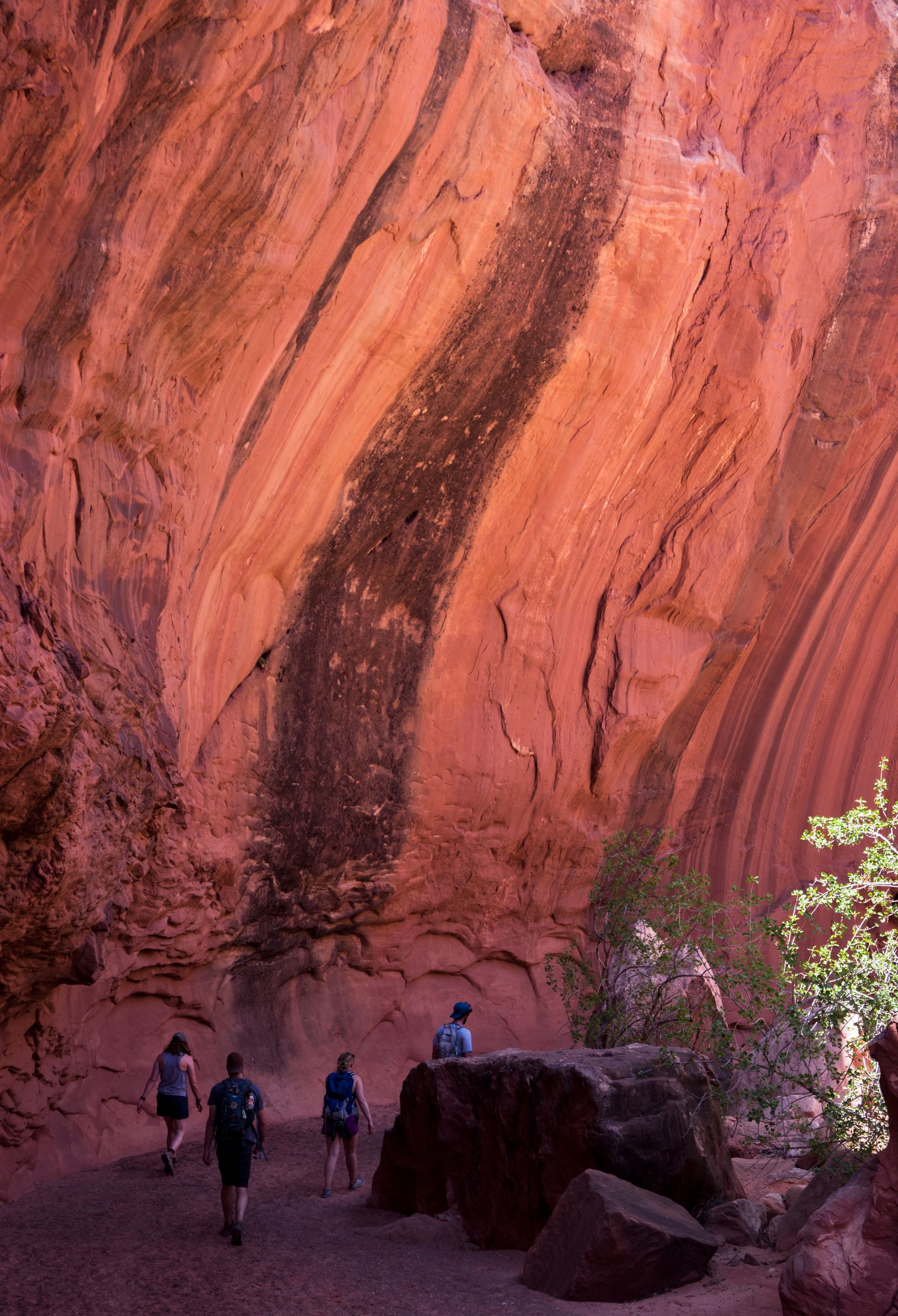 We were determined to follow the "trail" and found ourselves running around on top of the scratching mesa, having no clue where exactly to go. Finally, we saw a path far below and found a safe way down. It's easy to get turned around on the mesa, and you'll find no shade along the way.
Once we found our way back to the car, we looked for a spot to camp for the night. There were several great locations, along BLM 1010. A small bridge crossing over the San Rafael would have been perfect, but someone was already there. You can see that spot here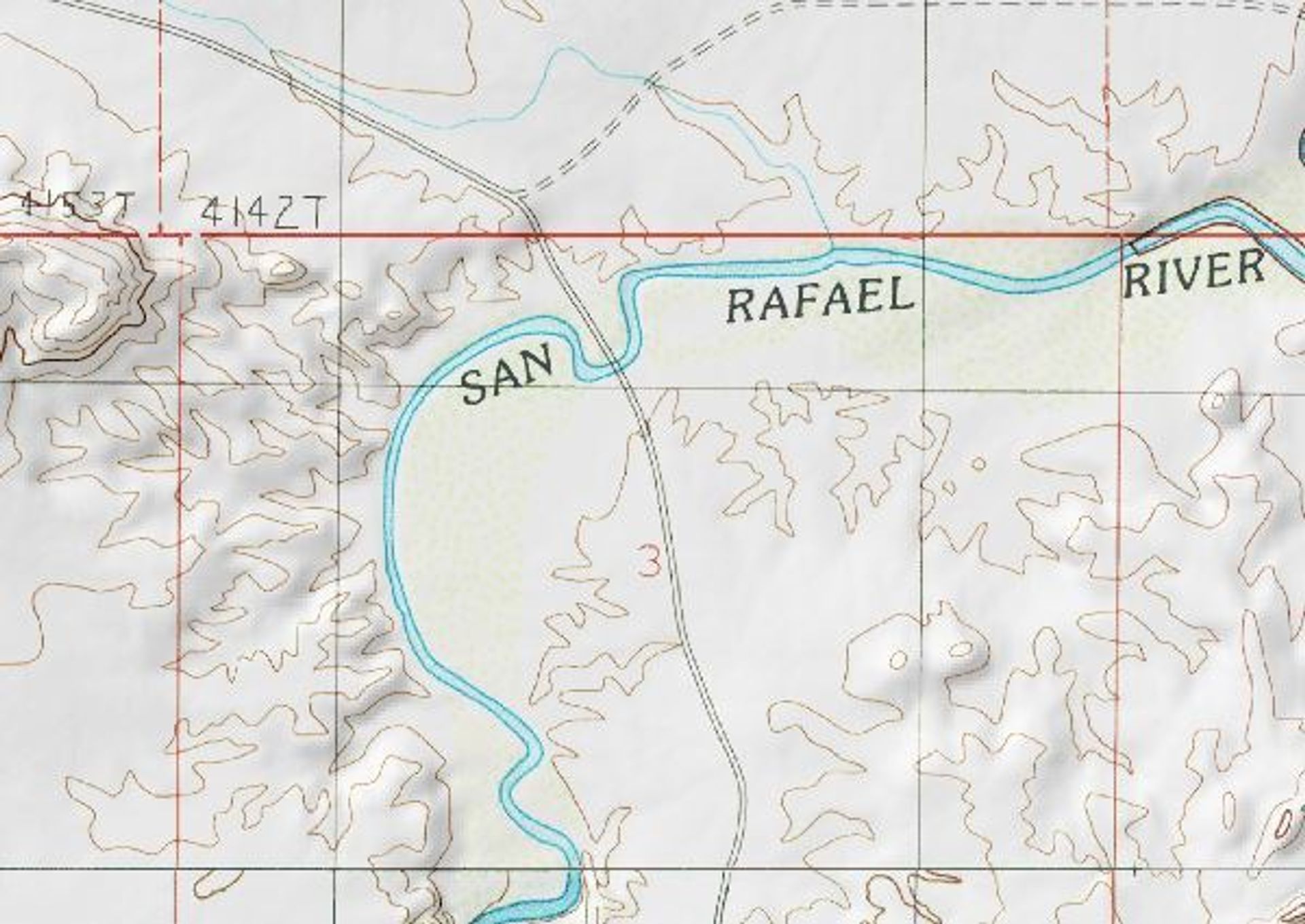 With that dream spot taken, we kept the search going, and soon found another great spot hidden in the hills and rocks of the desert.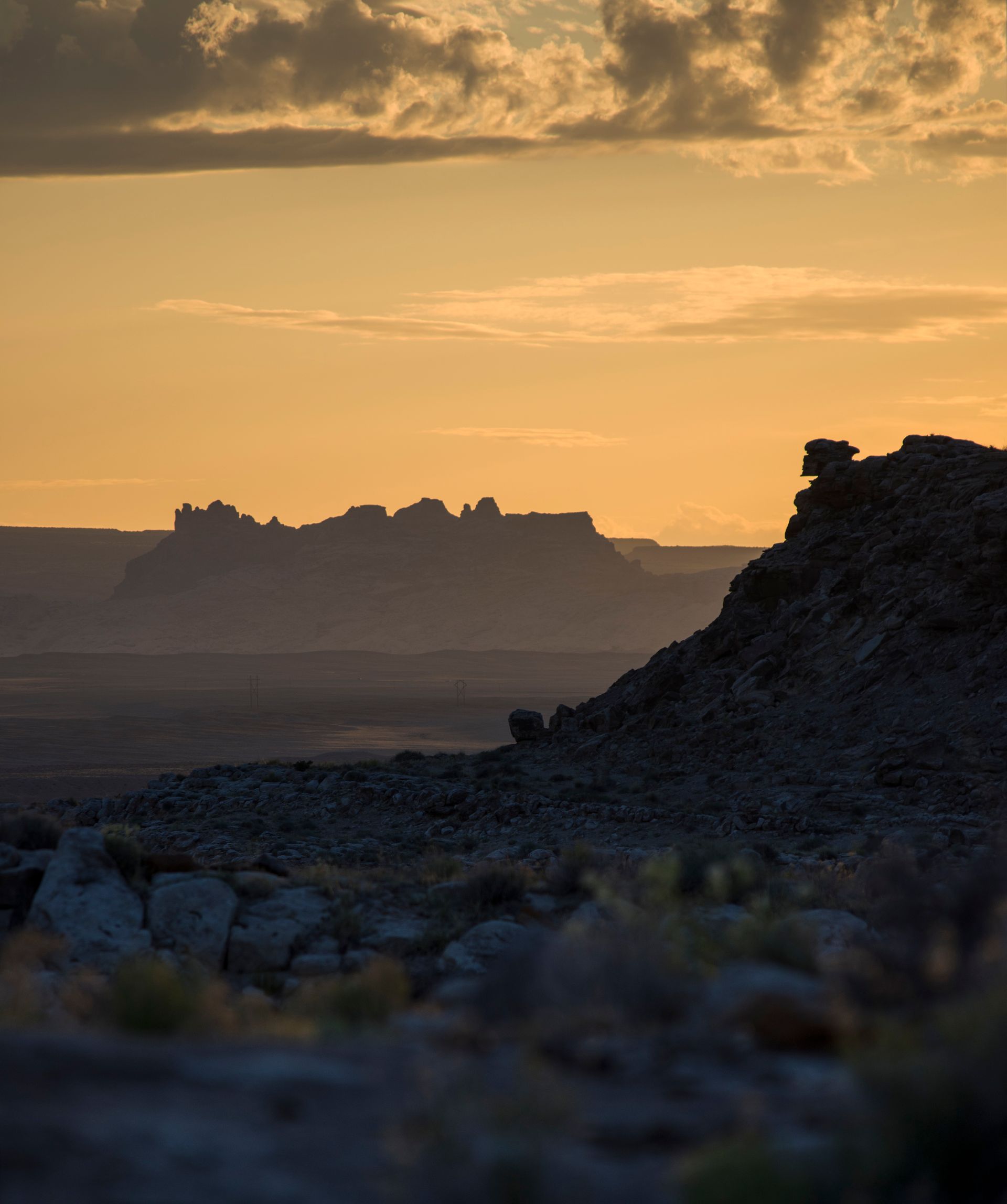 You really can't go wrong exploring the BLM land south of Green River. Any road will take you down an adventure. Just remember to have plenty of water, and saved maps so you don't get lost! Remember, just because it's not a national parks doesn't mean you won't be blown away.